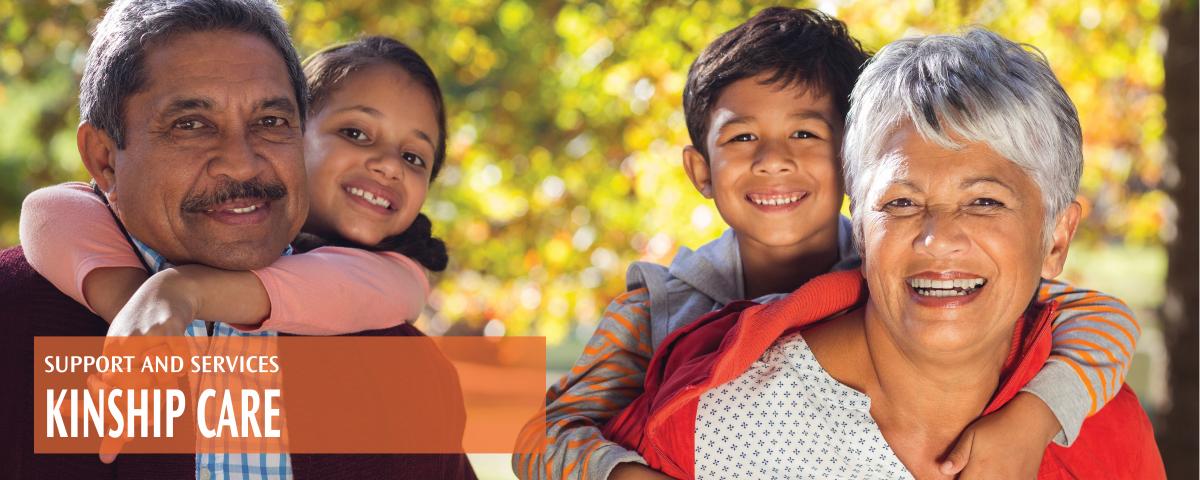 Are you raising a child of another family member or a family friend?
Then you might be what we refer to as a Kinship Caregiver. Here are two videos that will tell you more about the kinship community and resources available to you.
---
What information do you need today?
Kinship Navigators, Resource Persons and Support Groups - Find your local contact information for support groups, Kinship Navigators and resource persons who are there to support you and other grandparents and relatives raising children.
Benefits and Services - Learn about Kinship Navigators, Financial Help, Child Care, Free or Reduced Price Food, Foster Care Resources for Children with an Intellectual/Developmental Disability, Free Recreational Passes, and more.
Health Care - Applying for Children's Health Coverage, Finding Dental Care, Mental Health Services, Drug and Alcohol Services, Informed Consent for Medical and Mental Health Services, and Resources for Children with Disabilities
Legal Issues - Legal options, Legal services, and Child support resources
Professionals - For professionals, advocates and relatives raising children; kinship care related legislative, policy and public information documents
What's New - Special events and new resources
Kinship Navigator Case Management - Access our research documents for the three pilot-sites, and training videos for the case management pilot
Kinship Reference Guide Handouts - Statewide resources for caregivers on topics including healthcare, mental health, basic needs, and education
---
New Legal Assistance for Kinship Caregivers
Legal Advice and Referral for Kinship Care (LAARK)
LAARK is a statewide legal advice program that is housed at the King County Bar Association. The program provides free legal advice to kinship caregivers in Washington on matters related to the children in their care. Topics include minor guardianship, the child welfare system, education, housing, and public benefits.
LAARK lawyers offer free legal advice and referrals to kinship caregivers over the phone. LAARK does not assist people who are not kinship caregivers. LAARK is open to Washington state kinship caregivers and caregivers living outside the state who have legal disputes in Washington.
LAARK does not represent caregivers in court. There is no income restriction for LAARK.
Apply online at LAARK's website, or call the LAARK voicemail and leave a message at 206-267-7075.