The Office of Forensic Mental Health Services is a division of the Department of Social and Health Services' Behavioral Health Administration that oversees the state's adult forensic mental health system.
OFMHS strives to transform forensic mental health throughout Washington state by partnering with communities and law enforcement in areas such as mental health resources in jails, competency restoration, diversion programs, and community resources to better support people living with mental illnesses who come into contact with the criminal court system.
The programs provide forensic services, defined broadly as the intersection of law and psychology. These services include competency evaluations, care and treatment for competency restoration, forensic navigator services, diversion work, and more.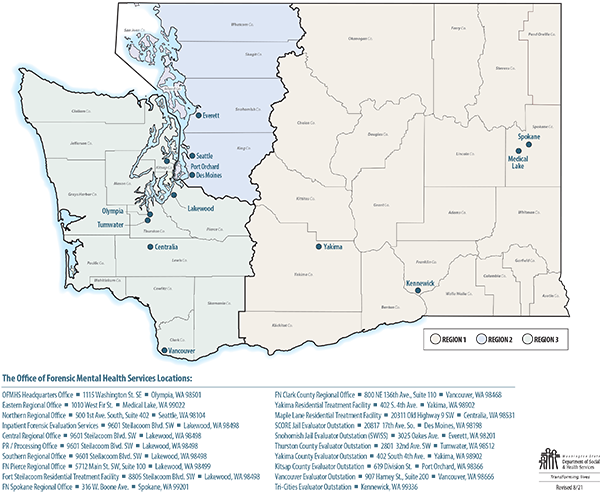 Workforce development
OFMHS provides forensic workforce development and jail technical assistance programs. The mission of the forensic workforce development team is to help develop sufficient availability of mental health professionals to provide an array of services in Washington's communities, inpatient facilities, and law enforcement or correctional settings, including jails and prisons. The jail technical assistance program provides training and guidance manuals focused on best practices to assist jail staff in areas such as treatment planning, suicide prevention, and crisis de-escalation. These trainings may also have relevance for others working within the criminal court system. The jail technical assistance team will work to ensure that these other partners are aware of and have access to such trainings.
Trueblood v. DSHS
Much of the office's efforts are aimed at coming into substantial compliance with orders in the Trueblood v. DSHS lawsuit, which focuses on ensuring jail-based competency evaluations and inpatient competency services occur in a timely manner. This includes the work of forensic evaluators, who evaluate Trueblood class members who are in jails, inpatient facilities, and the community, and report to the court on their findings.
Forensic Evaluators
Forensic evaluators deliver opinions to the courts regarding the mental state and psychological functioning of defendants facing charges. Forensic evaluators employed by the Department of Social and Health Services' Office of Forensic Mental Health Services are doctoral-level psychologists with additional training and expertise in the specialized field of the application of psychological principles to the courtroom. These units assist in the delivery of services that help ensure that the rights afforded to defendants by our Constitution are maintained and the safety of the public is recognized.
Forensic navigators
As a result of a Trueblood settlement of contempt agreement, a new position in Washington was created. Forensic navigators began working with clients on July 1, 2020. These navigators have two main functions: 1) help divert forensically involved clients out of jails and inpatient treatment settings and into community-based treatment settings, and 2) provide a variety of roles and functions to those who are ordered into outpatient competency restoration such as referring them to programs like Forensic HARPS and Forensic Projects for Assistance in Transition from Homelessness, and other community and local diversion and assistance programs..