Mobile CSO Calendar
*See the map below to check which region you are in.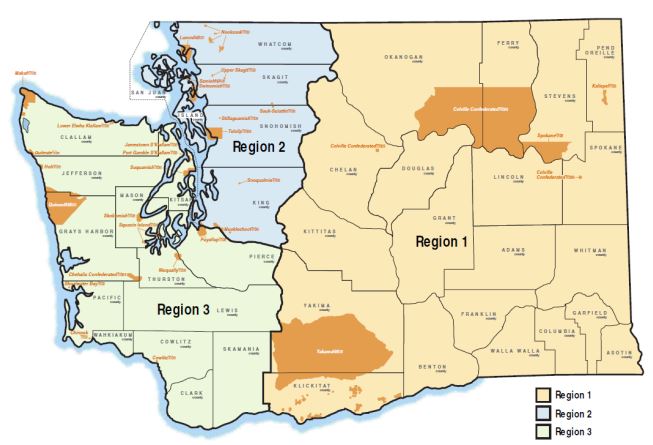 ---
The Mobile Community Services Office has hit the open road to reach new clients and improve our customer service. Rural households who find the trip to their local CSO too far to travel may have services roll into their hometown. The Department of Social and Health Services has created two 40-foot trucks that transform into functioning offices - each vehicle includes a reception area, interview stations, a sun shade for protection from the elements or extra space, and a mechanical lift as an option for access instead of the stairs.
Each Mobile CSO unit is staffed by experienced program specialists who are able to determine financial eligibility for the cash and food assistance programs.  They process new applications, reviews and changes for active cases; they issue EBT cards and receive documents. Applications for the Child Care Subsidy Program will be forwarded to that unit for processing .  The Mobile CSO specialists also determine eligibility for Medicare Savings Programs and Aged, Blind, or Disabled Medicaid.
Mobile CSO Goals:
Improve participation in the Basic Food Program by providing services at locations where DSHS representatives do not usually have a presence, including services at senior centers, job fairs, health fairs, migrant worker camps, and community events which will provide broader community outreach.
Strengthen Community Partnerships by expanding on existing community partnerships with social services organizations; state, local, and county agencies; and interested parties in the business community to create access points where people can apply for Basic Food, Cash and Child Care benefits.
Operate as a response vehicle for disaster recovery events where the Disaster Supplement Nutrition Assistance Program may be activated. The Mobile CSOs will be used as a facility to accept applications in more severely impacted areas where power has not yet been restored. The Mobile CSOs may also be used as a support office to facilitate back-room processing of applications by staff working outside disaster areas.
Request an Event!
Contact the Mobile CSO to schedule an event in your community. Priority will be given to community partners who agree to help publicize the event to connect as many people as possible to DSHS services. Examples include: Housing authorities, libraries, job fairs, public health clinics, temporary labor centers, senior centers, county fairs, community events, areas with under-served populations, etc.  Mobile CSO events are not limited to normal DSHS business hours.
Contact us at: Mobile CSO, PO Box 45440, Olympia, WA 98504-5440 or by phone at (360) 480-4772 or by email:
---
Need Cash, Food, or Childcare Assistance? 
Apply Here
We look forward to serving in your community!